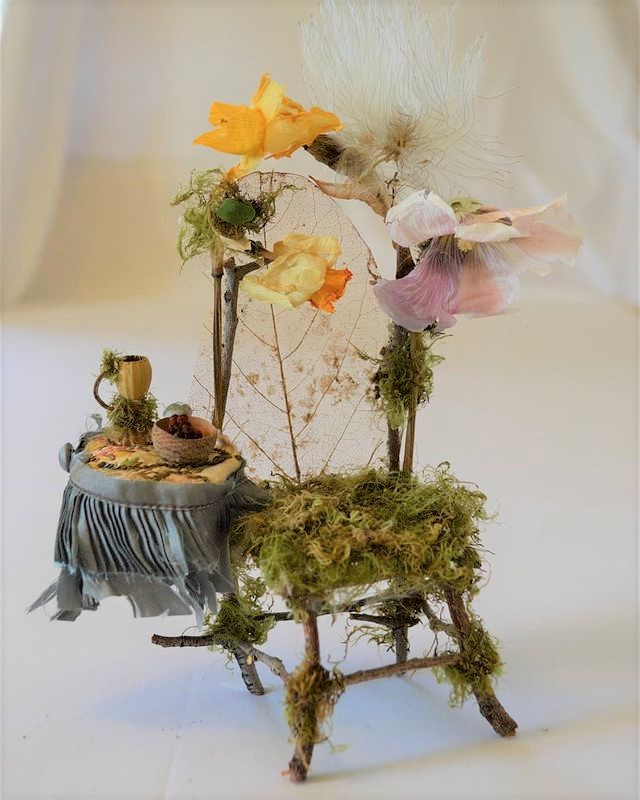 Creating Beautiful Fairy Furniture
from Natural Materials
Tinkerbell's Fairy Throne is a lovely, delicate and whimsical chair with a wonderful little table attached to the side of this amazing piece. Set upon the table is a tiny teacup and a bowl with berries. A soft cushion of lush green moss awaits little Tinkerbell's visit for tea. Surrounded by dried daffodil flowers and a hollyhock parasol, this wonderful fairy throne is a delightful work of art. A soft white clematis puff sits atop this beautiful throne. This class is truly wonderful and will give you a bright smile and happy memories.
Fairy Art School's Story
We began creating little fairy chairs just like this one many years ago in 1987 on a little three acre farm in Washington state. Spending long hours in our beautiful gardens in the spring and summer, the rainy winters came along and we missed seeing all of our colorful flowers and plants. We decided to collect them to hang up in the rafters of our house to remember our gardens through the cold winter. Looking up at the flowers, herbs and wild plants above our heads, we began to think of creating something magical from them. And that is how our adventure began. We started making little fairy chairs and tables, rockers, cradles, armoires and other wonderful pieces. So, this little fairy throne for Tinkerbell is one of thousands of pieces that have come from our love of nature and art. We hope you will find a new adventure, too, in this wonderful fairytale world of creating fairy art from nature and will feel a sense of peace, too.


Here are some of the other beautiful pieces we will be teaching how to make in the future at Fairy Art School!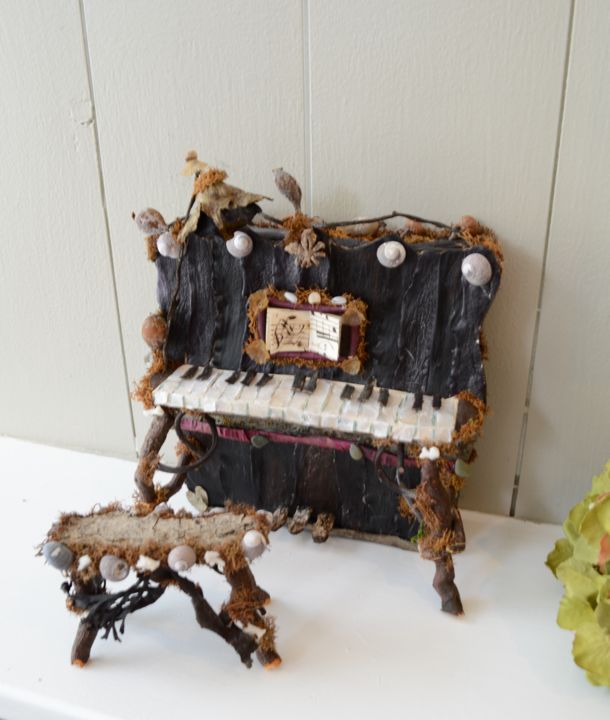 The Forest Gnome's Virtuoso Piano
Featured in our beautiful second book "Fairy Village", this amazing piece was inspired by the many musicians in our families. Made from dried eggplant
and onion skins, shells, bark, moss,
sea kelp and little stones, this set will
be available in an upcoming video
course soon here at Fairy Art
School! It's so fun to make!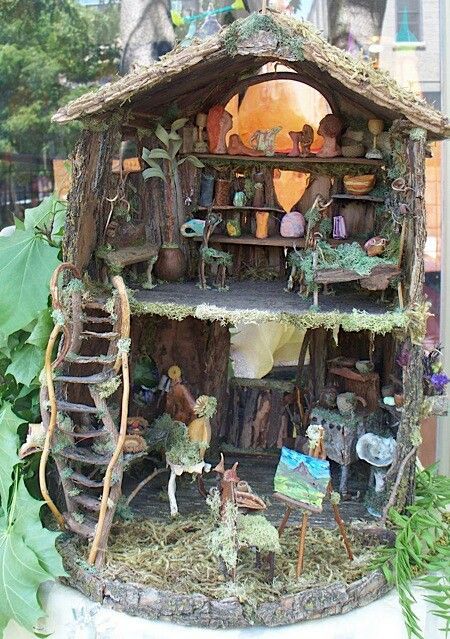 The Forest Artist's Cottage
As we both love to paint and sculpt and work in many different art mediums, we decided to create a little cottage just for a little Elfen artist or gnome who loves to write stories. Gathering little twigs and moss, pods, driftwood and leaves from nature, we fashioned this charming little home to imagine ourselves, too, living in a lovely forest house of our dreams.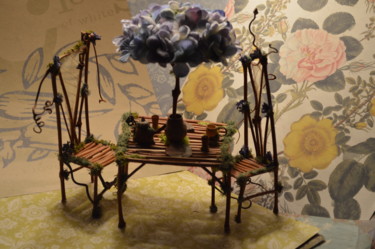 The Fairyland Teaparty
One of the first pieces we made after we began creating our fairy art. The Fairyland Teaparty was requested over and over again by those who collected our nature art. There is something special about this piece, perhaps because it is a setting where one can imagine a happy conversation over tea with a friend. Or it might be the little bird in a nest perched up in the flower umbrella. It evokes friendship and happiness and the love of nature, a lovely setting for tea.
Tinkerbell's Fairy Throne and Teatime Table Curriculum
Available in days

days after you enroll

SECTION 1: INTRODUCTION
Available in days

days after you enroll

SECTION 2: TINKERBELL'S FAIRY THRONE WITH TEATIME TABLE
Debbie and Mike Schramer
Creators of Fairy Art School
One summer's day several years ago, we were excited to have our wonderful fairy houses nestled in the lovely trees of a beautiful forest. They seemed to fit perfectly there, as if they had been there all along. We have always loved nature and felt such peace and comfort in this natural world. Creating from nature is a gentle blessing and inspires us to give kindness and happiness to the world. We hope your creations give you comfort and peace, too.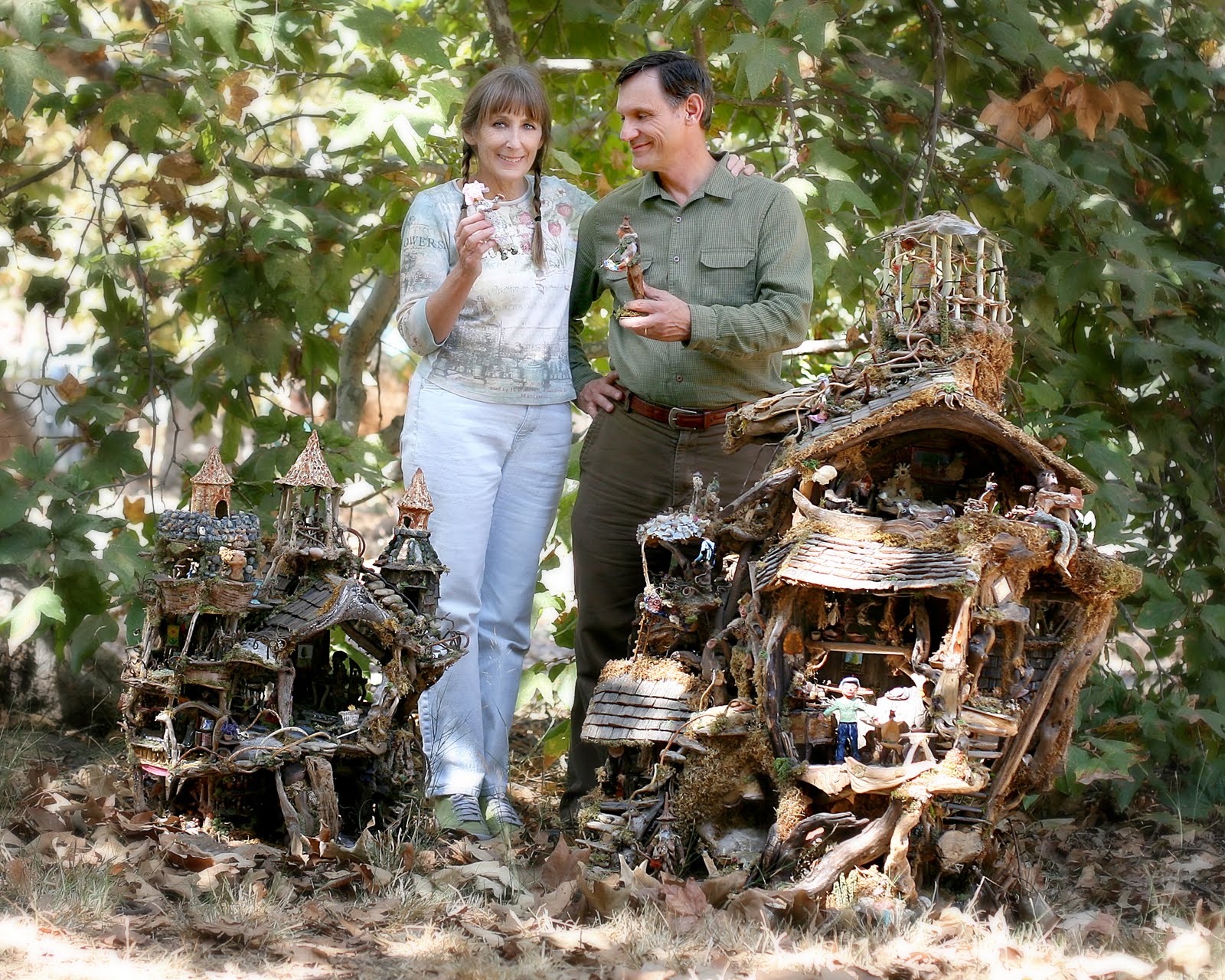 Our Other Available Courses
We will always be adding many more classes, so check back often!