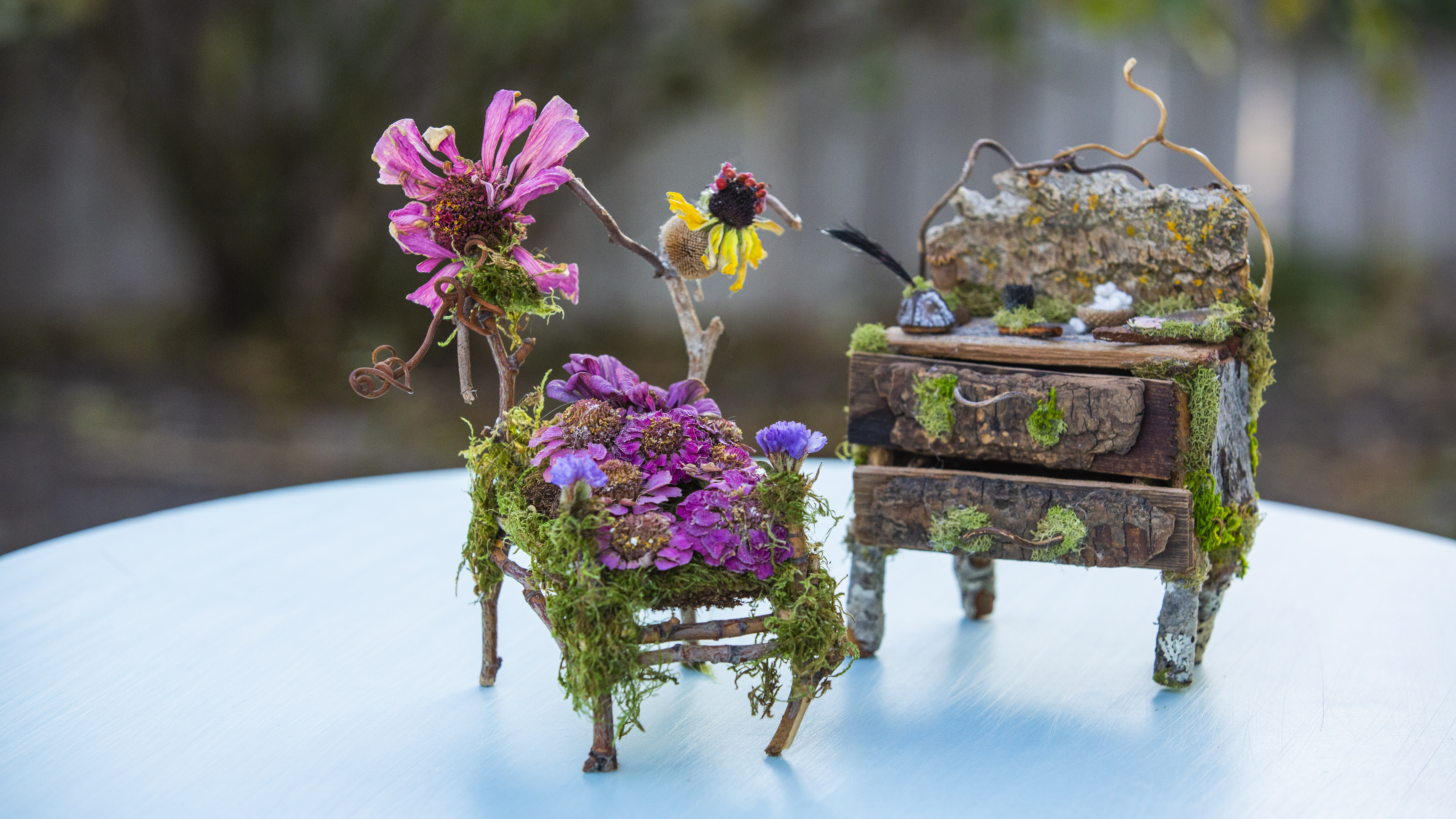 The Fairy Princess Bed with Dresser


The Fairy Princess Bed is also offered in the "Six Piece Fairy Bedroom Set Video Course", Here in this photo, it can be seen with the Fairy Dresser, which is also one of the pieces in the six piece course. All of the pieces in the Six Piece Fairy Bedroom Set Course can be learned in individual courses as well. If a student would like to try out one course first, then sign up for all of the other individual courses, that is one option available. Another option is to sign up for the six piece set to learn all of the pieces in one course. In each course, we give step bystep instructions on how to create each piece. The videos are done in real time, they all have beautiful music and are very enjoyable and fun.
Debbie Schramer/Nature Artist/Teacher
Debbie is the instructor for this wonderful class. She began creating her lovely little fairy furniture pieces in 1987, while she and Mike and their two sons lived on a three acre farm in Washington state. Debbie's love of nature and art have been a very special part of her life and is reflected in the beauty and unique style of her pieces. Also a writer of poetry and children's stories, her fairy furniture often reveals a feeling of fantasy and storytelling. Debbie has often been told her voice is very calming and gentle, a very positive part of her video courses. Below you will find a few of Debbie's other creations that express her love of this gentle and healing art. She hopes you will find her classes calming, too.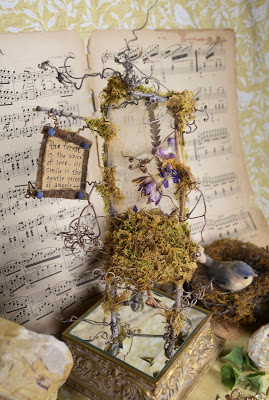 The Voice of the Forest Throne
This amazing mossy throne seems as if it were made by a gentle forest fairy, it is made with such delicate and pretty details and materials. Debbie is very inspired to create pieces that are of a gentle nature. She loves to find delicate flowers, leaves, tendrils and other natural materials on her nature walks. You can find lovely "treasures" in nature as well and use them to create wonderfully imaginative and beautiful works of art. As you walk through a forest or perhaps in your own garden, look for objects in nature that inspire you and help you find your own natural artistic gifts. Creating art from
nature does not require perfection
or exactness. This wonderful art
form is very forgiving and can give the artist the chance to think and
feel like a child again. Debbie and Mike have taught many children's
art classes and have always found that children are truly drawn to creating art from natural materials.
It gives them a new freedom to be themselves and to rekindle their happy and beautiful memories of being outside in the nature. We can all be renewed by this wonderful, magical world of beauty!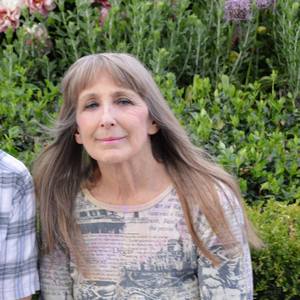 Debbie Schramer


Although Debbie was born in
Los Angeles, California, she spent
much of her early childhood in
more suburban and rural areas
along the west coast. Growing up
in Surfside and Garden Grove, California, she and her family
later moved to Klamath Falls,
Oregon and lived in lovely
mountains that overlooked a
beautiful wildlife refuge. She spent
hours walking through the woods
and paddling in their small boat
in the quiet creek below their house. Moving from a city suburb to such
a wild, natural area was a life changing experience for Debbie
and had a very profound
influence on her appreciation
of the natural world. The quiet tranquility of nature had a great calming affect on Debbie. It was at this time that she began writing poetry, so inspired by the beauty of nature she saw and experienced all around her. Recently learning that trees emanate healing scents and essential oils that can calm and comfort us, she realized how the forest is even more important than she had known. She feels it is important to encourage others to experience the beauty and healing qualities of nature and for all of us to preserve these "gifts" that are so freely given to us to cherish always.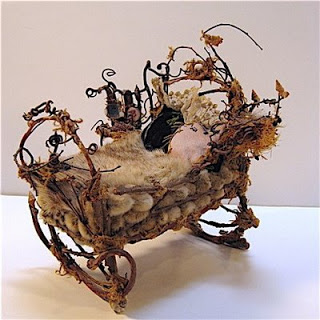 The Flower Fairy's Cradle
Like something from a magical storybook, this sweet little cradle looks so soft with it's cattail down bedding and velvet and satin pillow. Surrounded by vines, tendrils and flowers, this little cradle lends itself well to stories about fairyland and magical faraway places. Art can
take us to extraordinary, beautiful lands in our minds and spirits. Creating art can also give us a
way of escaping the trials and challenges of life so we can live
our lives more in tune with who
we really are. There is something
very special about working with
small things that seem miniature
to our lives. Perhaps it gives us a
feeling and understanding of the
real creator. We can be humbled
and touched to see the beauty



in
others and be more sensitive
to life. In nature, there are many small, minute things. Tiny ants
and ladybugs, delicate leaves
and flowers, an amazing world
of plants and animals that live
together in beauty. It is from this wonderful, intricate world that
we can draw inspiration from to fashion creations that will heal
our minds and souls. Drawing
upon our own imagination
and vision, we can create
miniature worlds of beautiful
art that will truly make us smile.
Fairy Princess Bed Curriculum

Available in days

days after you enroll

Section 1: Introduction
Available in days

days after you enroll

Section 2: The Fairy Princess Bed
The Enchanted Fairy House
This is our magical fairy house! We will be offering courses in creating fairy houses here on our website! Created from natural materials, it is 5 feet tall and
2 1/2 feet wide. We created this amazing forest
dwelling in 1993, while living in Washington state.
It is circular so there are rooms on every side. It is made from natural materials, many that we collected or grew ourselves: branches, vines, roots, driftwood, seaweed, kelp, stones, shells, pods, moss, lichen, flowers, herbs, berries, leaf lace, mica and many others. There are stairways and ladders leading to all the different rooms throughout the house. There's a wonderful kitchen with a little bark stove, tiny dishes and herbs drying above the sink. The living room is filled with tiny furnishings, all made from natural materials. There's a chandelier, bookshelves with tiny books, bedrooms with soft pillows and little tables and lamps. The most unusual part of the Fairy House, however, is the amazing observatory at the very top of the house. With a mica roof and several telescopes looking out beyond, there's also painting easels and paints and a sculpture table. The Fairy House is a magical creation and so fun and exciting to create!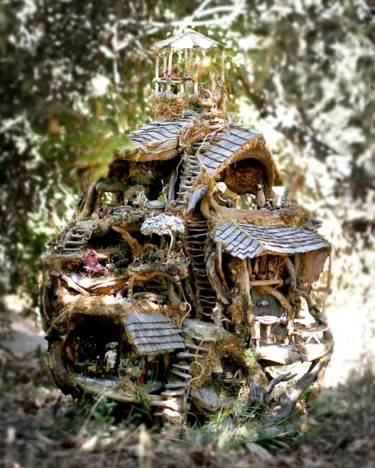 Other Courses Available
We have many other wonderful video courses that offer different styles and utilize different natural materials.
It is really fun to try creating new pieces and expand your creativity and ideas. We hope that you will
experiment and use your imagination and your natural artistic abilities when creating your nature art!