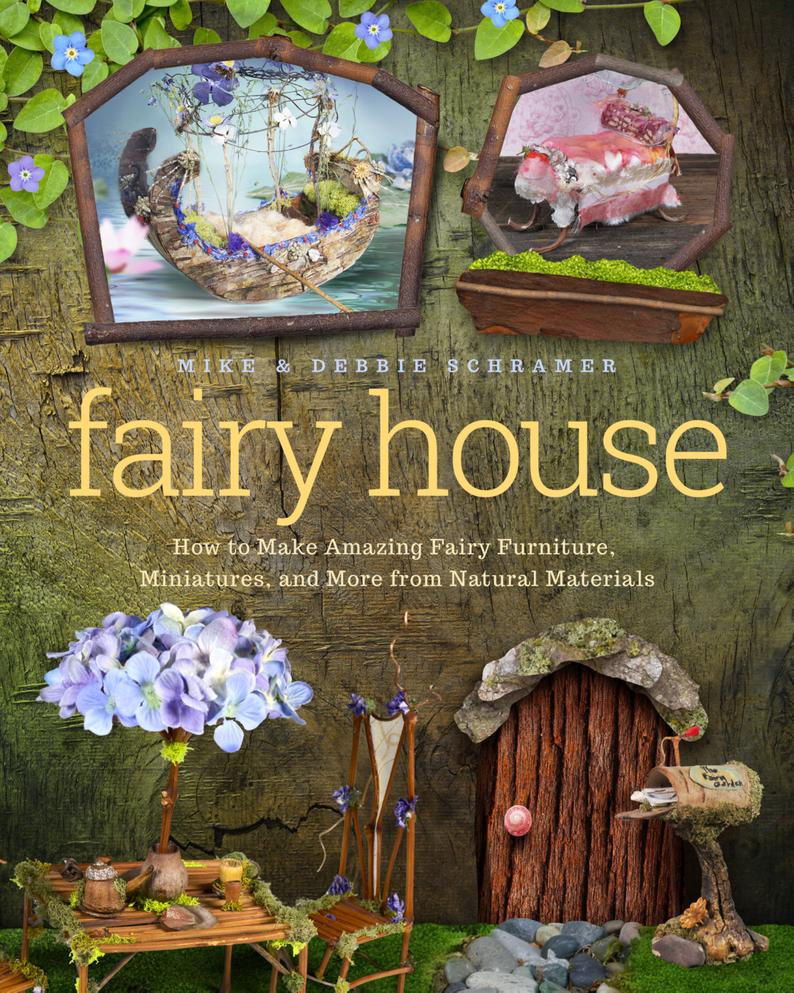 Fairy House
by
Mike and Debbie Schramer
This wonderful "how to" book is a fun and very unique instructional art and craft book on learning how to make amazing little fairy furniture, fairy houses and little woodland characters from natural materials and found objects. There are over 20 different projects in "Fairy House" with fun, easy to follow step by step instructions on how to create each piece. Starting out with a charming little fairy chair and onto more elaborate, unique pieces. There are wonderful photos every step of the way and also great information about collecting and drying natural materials, tools and supplies needed for this unique craft and other helpful chapters. This is a beautiful book for anyone who loves being creative and using their imagination!
Creative Projects in "Fairy House"
Here is what you'll learn how to make:
A Little Fairy Chair and Table
The Poet's Writing Desk and Chair
The Princess Canopy Bed
The Woodland Rocking Cradle
King of the Elves Bookshelf
Dresser for the Forest Gatherer
A Couch Made for Angelic Conversations
The Gnome's Woodstove and Sink
The Elfin King's Ancient Forest Piano
The Forest Cottage
Woodland Characters
The Fairy Garden
The Elfin Tea Party
The Garden Wishing Well
The Gardener's Potting Shed
The Fairyland Gazebo
The Fairyboat Bed
The Woodland Race Car
Theater in the Woods
Photos of some of the beautiful pieces you can learn to make in our amazing book "Fairy House" below: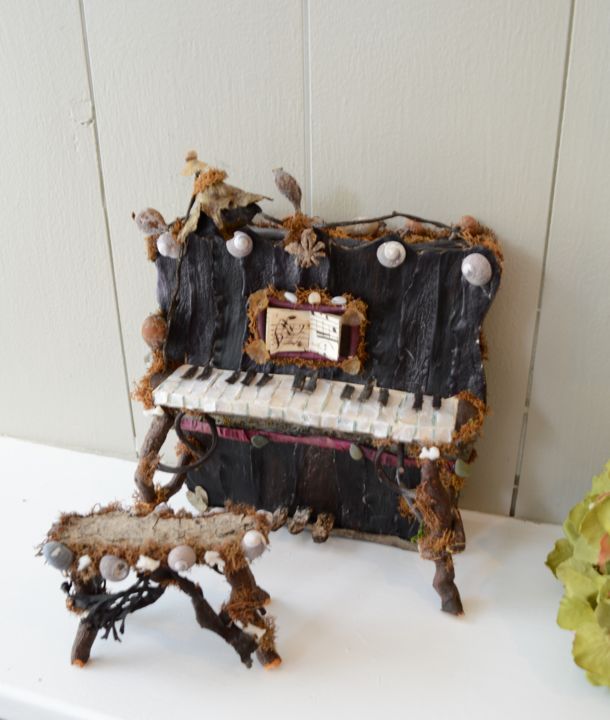 The Elfin King's Ancient
Forest Piano
This amazing two piece set is truly a unique work of art and is a very exciting project to make! The stunning piano and little bench are made using all natural materials such as: branches, bark, moss, lichen, shells, stones and most unusual: seaweed, kelp and dried eggplant skins. This is quite an elaborate piece and is so fascinating and fun to make! This amazing set will be such a wonderful conversation piece and will be a very special accomplishment for you as it is a very detailed and unique piece!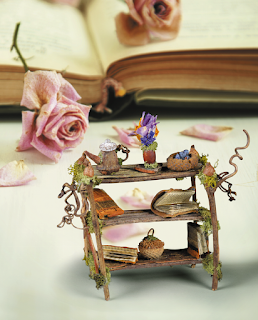 King of the Elves Bookshelf
Creating this beautiful bookshelf is an interesting and fun project. Besides being a unique work of art, it is a functional piece to display tiny little objects that you can make yourself or add things that you have in a collection. It is made from branches, moss, grapevine tendrils and bark. The little accessories are so fun to make and quite easy, really. A tiny tea pot, little books and a bowl of berries are some of the little pieces we teach in this project but you can make anything you'd like to display on this lovely piece! It's so cute and charming!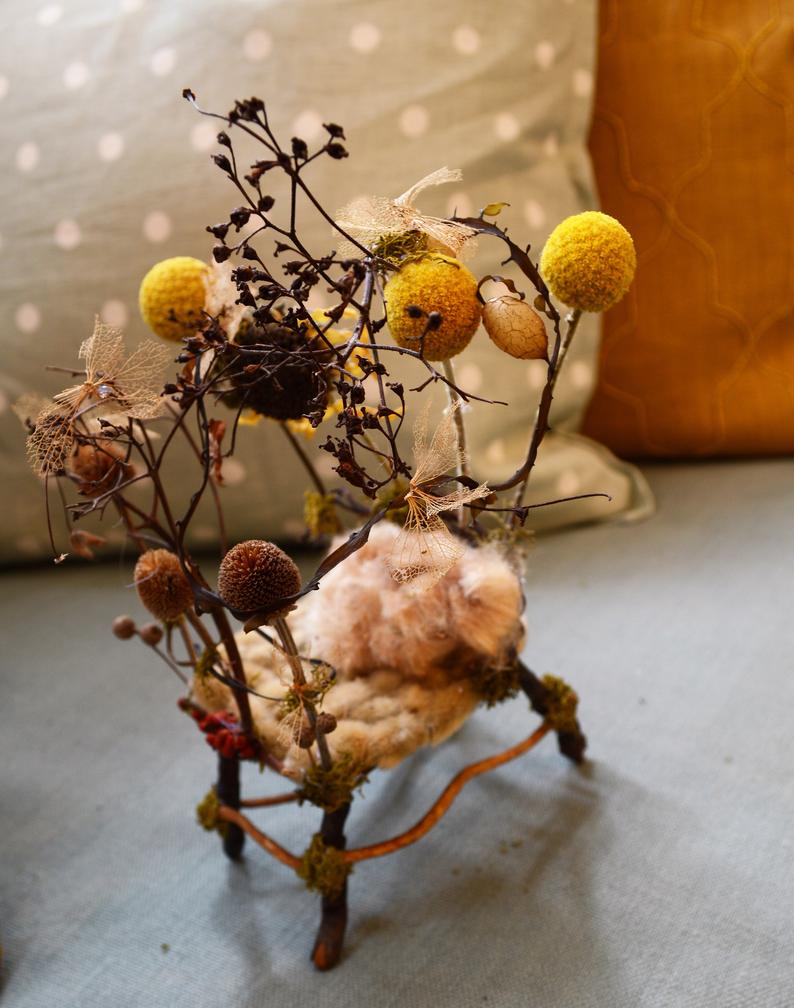 The Fairy Princess Bed
This beautiful little fairy bed is so unusual and has such a dream like style. Made from branches, wild grasses, beautiful flowers and pods and the most fairy like part of this bed are the pussy willows used for the bedding and the cattail down for the soft little pillow. The canopy of amazing, colorful flowers and pods is very magical and pretty. This project is really fun and we share step by step instructions on every part of making this wonderful piece! This a very enchanted piece in our beautiful book "Fairy House"!
The Little Fairy Chair
This charming, rustic chair is perfect for a little fairy who lives in the beautiful forest. It is made from bark, branches, grapevine tendrils, moss and curved seaweed from the ocean. It is simple but has a whimsical, enchanted style and is one of the first pieces you will learn to make in our wonderful book "Fairy House". It is sturdy with a unique and fairytale style design. This adorable little piece will give you a perfect start into the journey of creating fairy art from the natural world! It is so fun to make and easy to follow the step by step instructions in this project.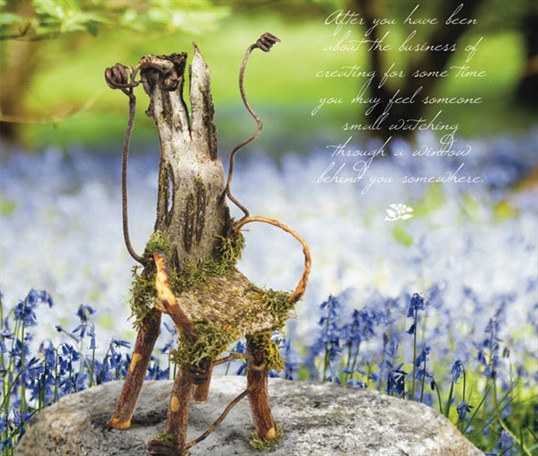 Some of our Online Video Courses
Be sure to look at our wonderful video tutorials below. You can see all the courses we currently have
available by clicking on the button below to "View All Courses". We will be adding many more video courses
soon, so check back often! As always, you will have Unlimited Access to each of our classes anytime!!