SALE !!! THE "SIX PIECE FAIRY BEDROOM SET" VIDEO COURSE
NOW $40 FOR ALL SIX VIDEOS
(The introductory price for these two courses as seen in the video below is no longer available)


WE'LL BE ADDING MANY NEW COURSES SOON
SO BE SURE TO VISIT OUR WEBSITE OFTEN
UNLIMITED ACCESS TO ALL OUR COURSES ANYTIME!
SCROLL DOWN TO CLICK ON COURSES TO ENROLL


Watch this video to learn more about Fairy Art School
SHOP CURRENT COURSES AND ENROLL TODAY
WHAT IS FAIRY ART SCHOOL?
Fairy Art School brings the whimsical world of fairytales and miniatures to life, by helping you learn how to create fairy furniture, fairy houses and woodland characters. Our classes are designed to help each person draw inspiration from the natural world to create pieces that reflect their own personality and artistic abilities. Courses will transition from the basics of fairy furniture making to more amazing and elaborate fairy art. Each online course includes hours of video tutorials and training that are easy to follow, plus downloadable step-by-step instructions and materials lists. The videos are filmed in real-time and include detailed guidance, suggestions and ideas. More and more courses will be added to Fairy Art School, so it will become an expert resource to help you learn how to make every kind of fairy art imaginable. Current and future class topics will include the creations you see below and many more. Check back here often for future courses and follow us on YouTube, Instagram and Facebook for more amazing, and fun videos, photos and ideas that we are excited to share with you. The images below are samples of fairy furniture in upcoming courses. Scroll down below to see the courses available now and click to begin your exciting new art adventure!
FUTURE COURSES AT FAIRY ART SCHOOL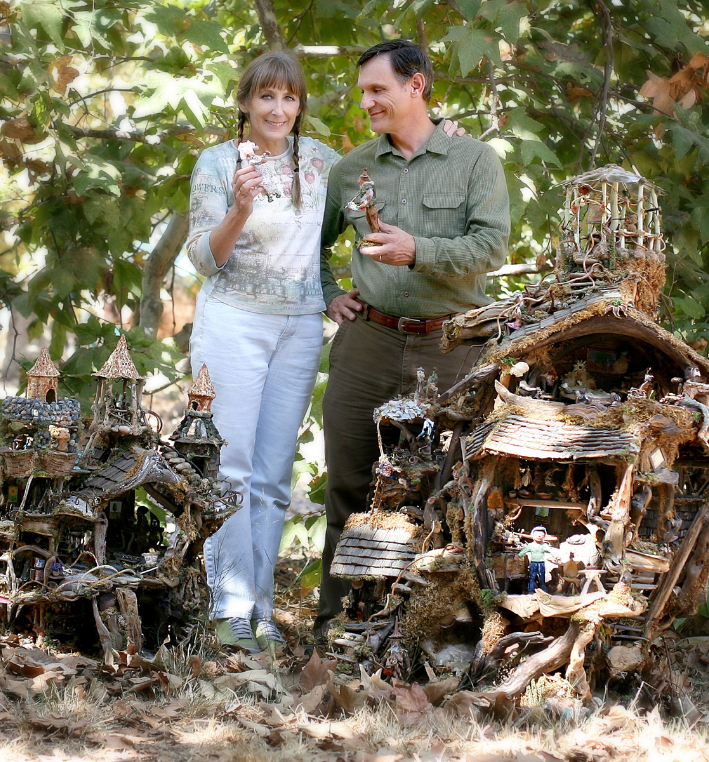 Mike and Debbie Schramer


We have been creating fairy furniture, houses and woodland characters from nature since 1987. While living on a little farm in Washington state, we developed an appreciation for the beauty of the natural world from working in our gardens and going on wonderful nature walks. We felt inspired to combine nature and art to create a fairytale world and discovered that it became our favorite art medium and a truly magical way to express ourselves. As our confidence as artists grew, our pieces became more adventurous and unique. An especially surprising and wonderful blessing from working with nature was being outside more and being able to enjoy the beauty and tranquility of the natural world. Nature has always been a very special part of our lives but we were seeing nature differently and appreciating it as art as well. Creating art from the natural world can be very healing and calming. We are so grateful for our experiences with nature and feel that we have grown so much as artists and people from being a part of this beautiful world. We hope you will be blessed from this art, too!
When we began creating our little fairy furniture in 1987, we had no idea that people would be so fascinated by our little fairy pieces. The response to our beautiful works of art was phenomenal. Not long after doing local art boutiques and fairs, our fairy furniture began to be featured in many magazines such as "Victoria" magazine, "Faerie" magazine, "Vintage Gardens" and others. We were even more excited to have our fairy pieces included in many wonderful books such as "Chairmania", "Fairy Homes and Gardens", "Pleasures of the Garden", "New York Times", "Los Angeles Times", "Chairmania" and many more, In recent years, we
were fortunate enough to have three books published about our nature art:
"Fairy House", "Fairy Village" and "F is for Fairy". Our fairy art has also been
exhibited in many shops, galleries and museums all over the U.S. and in other
countries as well. We are amazed to see how people are drawn to our creations,
that art from nature resonates with them. It is a marvel to see the world of
nature so closely as we fashion and create a new and smaller world from its
beautiful color and design. We hope your adventure in creating nature art will
be exciting and new for you, too! We're happy to share with you all that we've
learned in the past thirty years to help you have a wonderful, creative
experience with nature art!